Steven Turns 3!
Steven James Day turned 3 years old on January 28, 2005. Wow! Hard to believe that three years has passed already. this year, we had two celebrations, one on his actual birthday at day care, and one the following evening with family. Have fun looking at our pictures!
Day Care Party
This is the special train cake that Grandma Day made for Steven's school party. All of his friends enjoyed counting the candles and devouring the colored icing! Our teacher, Ms. Gwen warned us, "We LIKE icing, but we're not that big on cake! Ah, those finicky three-year-olds! Look! Who's that engineer?
Here are some other photos from the party: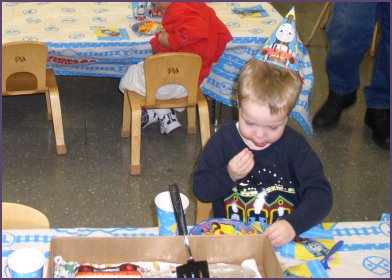 Day Family Party
As you can tell from these photos, Steven is still a huge fan of Thomas the Tank Engine! He requested a Thomas cake again this year, and Nonna was very happy to oblige! Steven received many new pieces to his Take Along Thomas play set, and has been happily lost on the Island of Sodor ever since.
Steven noticed a railroad track around the border of the Thomas-themed table cover, and wasted no time putting them to good use!
Steven says, "Cheese!"
Steven makes a wish...
Steven plays with Thomas's new friends.
Diana was a huge part of Steven's birthday fun. This year she gave him a special birthday present all her own - a pair of trucks, or "Lorries," for his Island of Sodor playset.